So we have a new tooth! Just not the one I was expecting — or hoping — would come in. Since Sean won't oblige us with teeth pictures, we'll have to go to the board. Here we see a diagram of Sean's mouth: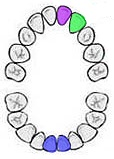 The blue teeth are the ones he got just after turning four months. They're probably all the way in now and are big and sharp. The purple tooth was the object of my last post. It's been big and bulging and you can see its whiteness, the gum there is so thin. It's been like this for a month, just getting bulgier and bulgier. However, the tooth next to it, in green, must have thought my challenge was for it, because just yesterday evening, we noticed that that tooth had cut through the gum. Egad!
We tried to explain to Sean that he was doing his teeth out of order. He didn't seem to care, however, and instead blew some bubbles while making an adorable cooing sound.