Krakow
July 24 and 31 and August 1, 2004
We spent ten days in southern Poland, flying into the city of Krakow where we spent the first and last couple days. (I have since discovered that English prefers the use of the name "Cracow," but since all I encountered on the trip was the name "Krakow," I'm going with that.) We stayed at a hostel just outside the main part of town, and though the city center was fairly large, it was all quite walkable. We spent our time wandering around, seeing the sights, and continuing our favorite Poland hobby: eating at vegetarian "milk" bars. These places serve, cafeteria-style, wonderful tasty home-made vegetarian dishes at amazingly low prices. We found a couple favorites in Krakow that we returned to several times: Momo, just a bit south of the castle on Dietla Street, and one of the Vega mini-chains.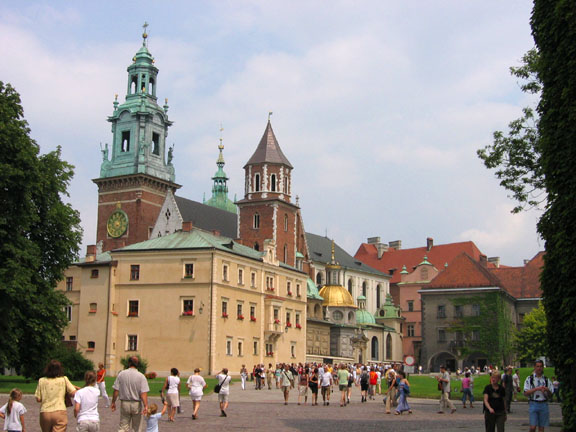 MK
We had to, of course, do the tourist thing and check out Wawel Castle.
BH
Courtyard of the castle, with scaffolding.
MK
Wawel Cathedral. The chapel (of St. Sigismund) underneath the gold-domed tower (on the right) is supposed to be the "finest Renaissance chapel in all Poland. But, it was closed and under construction.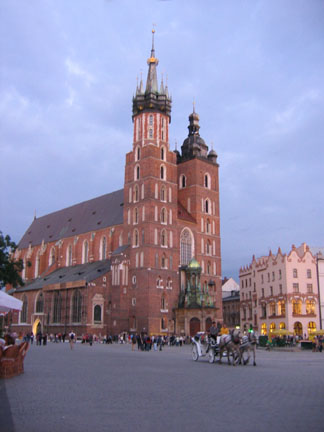 BH
We also spent a bit of time in the Rynek, teeming with tourists and those trying to sell things to tourists. Here stands St. Mary's Church, oddly angled to the rest of the square. Every hour a bugle call is made from the top of the high tower.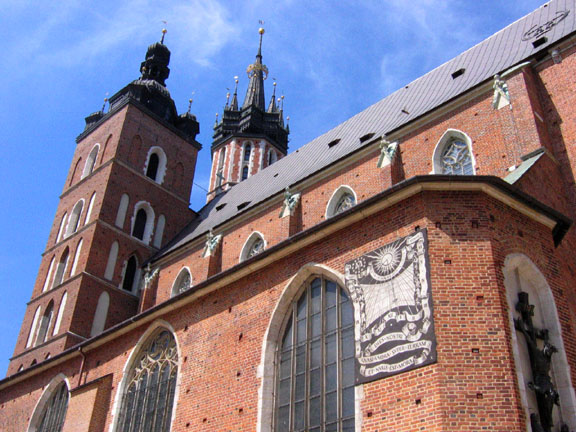 MK
St. Mary's from another angle.
MK
The Rynek also houses St. Adalbert's Church, built in the 12th century -- as well as flocks of pigeons.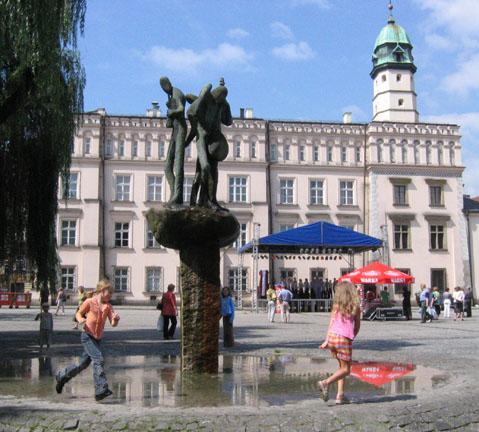 MK
One day we heard about a little local concert and so we checked it out. The kids in the background sang to a fairly empty square, while others chased each other around a fountain.
BH
The singers pose for a photograph.
BH
Up in the northern part of the old town, artists display their wares as horse-drawn carriages carry tourists around town.
MK
Just over the wall is the Barbican, a defensive bastion built in 1498. With scaffolding.
MK
No, your eyes do not deceive you. We found a children's theater putting on a production of Moomin!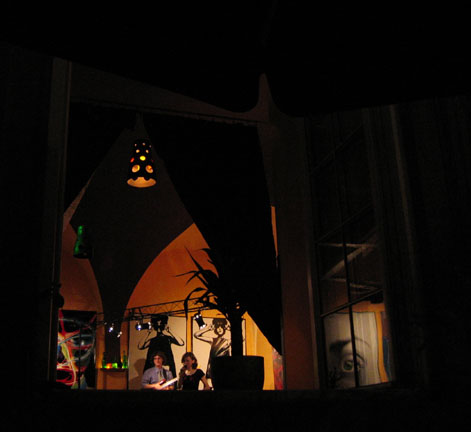 MK
One evening we stopped by a venue with live jazz. We sat outside and listened to the music float through the window.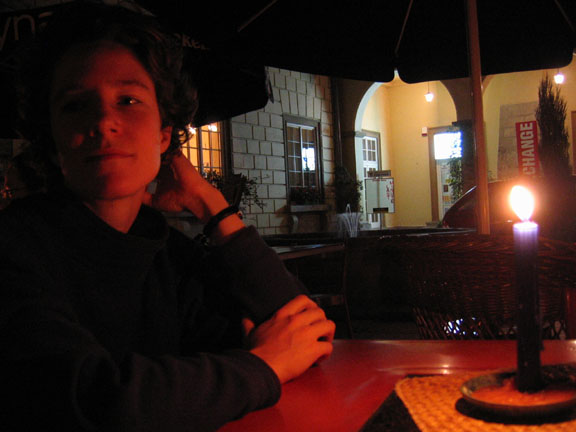 BH
Jazz by candlelight.