Fencing in Halle
April 24-25, 2004
While I was away one weekend, three of my teammates qualified our club's team to the national championships by beating rival club USC. So in April we headed up to Halle to fence against the best teams in the country. Of course, a couple weeks before, Carmen decided to break her ankle running... The format was a round of pools (4 teams to a pool) of 45-touch team matches, followed by direct elimination. Our team was 1-2 after the pools, so we made the cut to the round of 16, but with a seed of only 13. That meant that we fenced against #4 seed Berlin, a strong team. They underestimated us and it was a close match with us up much of the time. In the end, we lost by just two touches. Disappointing.
BH
Vanessa, Ariane, and Carmen cheer me on.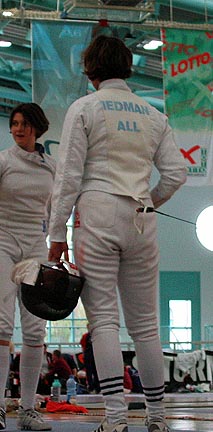 BH
Ariane steps up to the plate.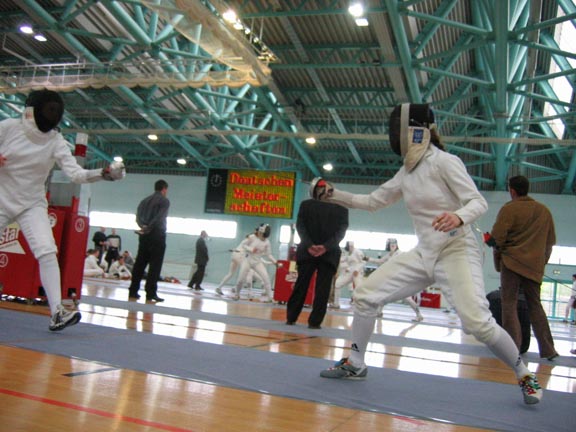 BH
Fencing in the pools.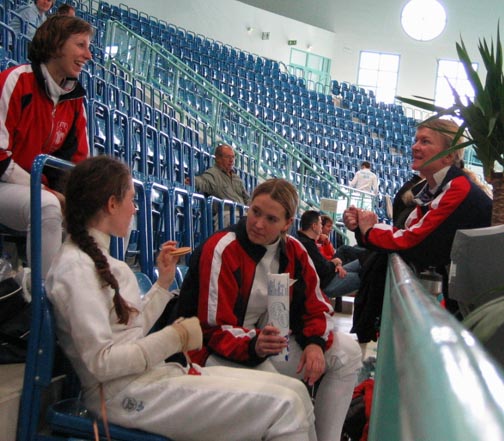 BH
Ariane, me, Vanessa, and Manuela as we wait between rounds.
BH
Our team: me, Manuela, Carmen, Ariane, and Vanessa. We kept fencing on strip 3 for some reason...
BH
We had a chance the night before to watch some of the individual championship. Very professional.
MK
And we had some time to wander around Halle. The fencing tournament was a big enough deal to end up on the "Theater and Concert" listing for the month. (Vanessa, Carmen, Manuela, Ben)
BH
Halle was, um, kinda a weird place. Quirky weird, not bad weird.